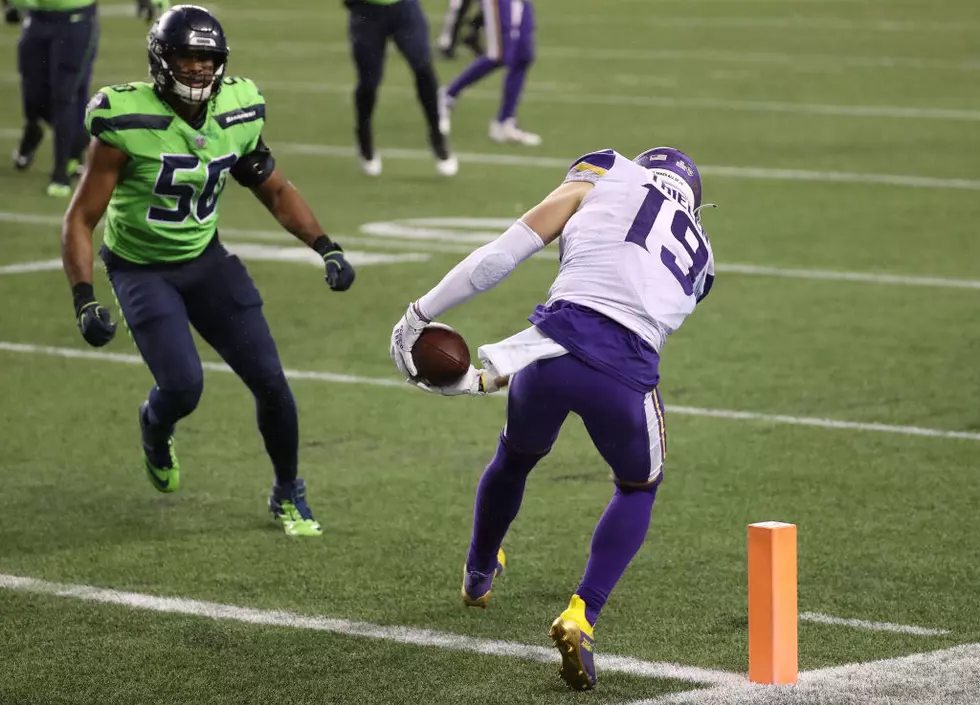 Kick The Damn Field Goal Vikings! (VIDEO)
Abbie Parr Getty Images
The Minnesota Vikings had the undefeated Seattle Seahawks on the ropes late in the fourth quarter Sunday Night.  Minnesota had a chance to kick a chip shot field goal late in the fourth quarter, but instead decided to go for the first down.  If the Vikings opted for a field goal it would've put Minnesota up 8.  Instead they decided to go for it on fourth and one inside the red zone and running back Alexander Mattison was stuffed just after the two minute warning.  This gave Seattle Seahawk quarterback a 1:57 to drive the length of the field and complete another game winning drive.  The Vikings' defense forced two fourth down situations along the way, but Russel Wilson is a master at the two minute drive.  Wilson dropped back to pass and fired a bullet to Metcalf for a score. The Seahawks failed to get the two-point conversion, but they still had the lead with just a few seconds remaining and got the win, 27-26.
Lets get back to the fourth and one at the two minute warning.  Yes, all the new saber metrics would probably say you should go for it in that situation.  I'll give you that.  However, we're talking Russell Wilson, who unlike our quarterback Kirk Cousins, always finds a way to put together a winning two minute drive.  If the Vikes kick that field goal, they're up by 8, and not only does Russel Wilson have to drive for a touchdown, but he has to convert the two point conversion as well.  I like those odds a whole lot better.  I'll even go one step further, if the Vikings don't go for a two point conversion when they went up 26-21 after a very impressive drive with just over seven minutes remaining in the game, they would be up 9 with that late field goal at the two minute warning.  All but putting a nail in the coffin on the Seahawks.  Maybe, I'm old school, but I'm in the camp, you only go for two when you have too.
Minnesota falls to 1-4 with the loss and will return home to U.S. Bank Stadium to host the winless Atlanta Falcons in Week 6.
---
KEEP READING: See how animals around the world are responding to COVID-19