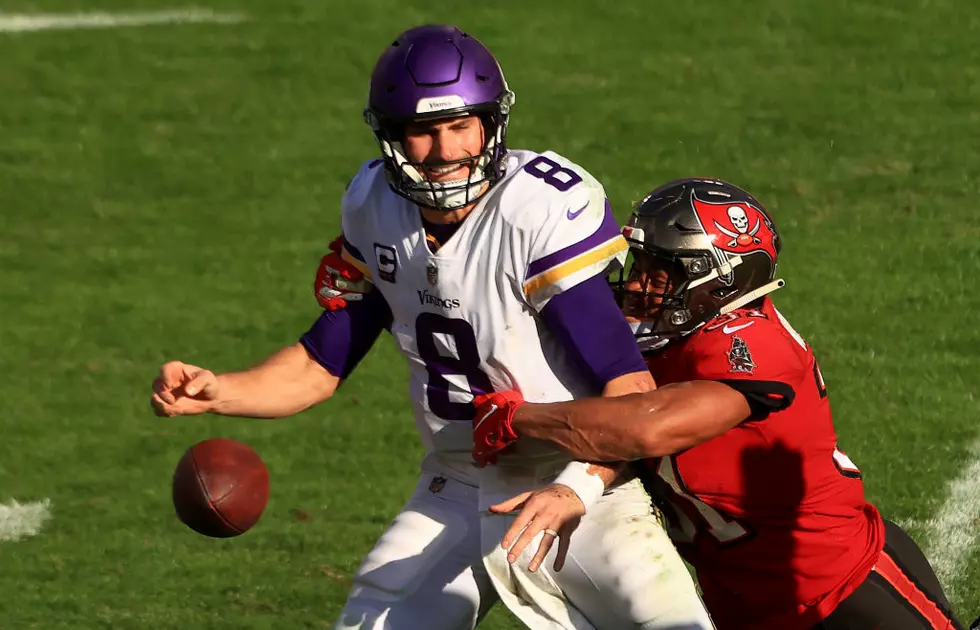 Vikings Playoff Hopes Dealt A Big Blow In Buc's Loss!
Mike Ehrmann Getty Images
The Minnesota Vikings didn't do help much to keep their playoff hopes alive yesterday.  Place kicker Dan Bailey missed 4 kicks, and the Minnesota Vikings lost to Tom Brady and the Tampa Buccaneers by a score of 26-14.  Besides missing three field goals, an extra point, and numerous team miscues, it seemed as if even the referees wanted the Vikings to lose.  Case in point, the Vikings were flagged for a pass interference call, on a hail Mary play at the end of the first half with no time remaining on the clock.  This play has not been flagged in the NFL since 2009.  It was a terrible call.  Just the Vikings luck right?  Also, the zebras didn't do the Vikings any favors either by missing a helmet to helmet call on Kirk Cousins, and a late hit on a punt return.
Speaking of Kirk Cousins, he was under heavy heat for most of the afternoon, as he was sacked 6 times.  However, he still completed 24 of 37 passes for 225 yards with a touchdown.  Wide receivers Justin Jefferson and Adam Thielen were kept in check with only 39 yards receiving on the afternoon.  Running Back Dalvin Cook had a solid game with 102 yards rushing and a touchdown.
While the Minnesota Vikings fell below .500 with the loss to 6-7, the team that was tied with the Vikes, the Arizona Cardinals won a big road game in New York, to improve their record to 7-6.  The Vikings no longer control their playoff destiny.  They'll more than likely need to win out and get some help down the stretch, as the Cardinals have an easier schedule.  Arizona will have two home games coming up with the Eagles and 49ers, and close out at the Rams.  The Vikings will finish with Chicago at home, and then on the road at New Orleans and Detroit.
---
CHECK IT OUT: 100 sports records and the stories behind them