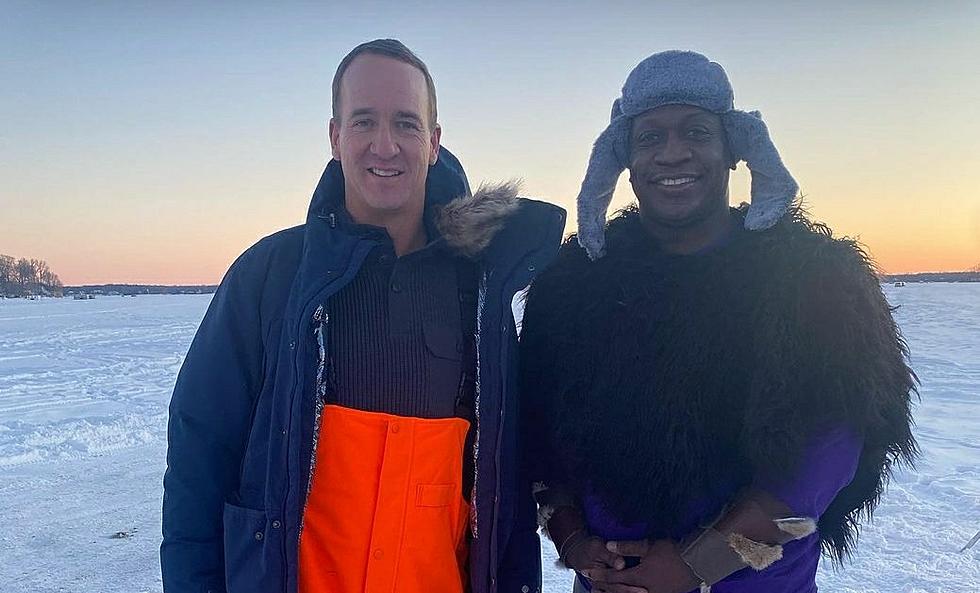 Why Was Peyton Manning In Minnesota Lately?
John Randle Instagram
This is one of those ex-athletes that I find quite entertaining
Peyton Manning - you've seen him on the field countless times in the past, and of course in the Super Bowl. There is also another Manning, Eli, who played professional football and I'm from San Diego, so I will ALWAYS despise him for telling the Chargers back in 2004 that he wouldn't play for them ( he was picked #1 overall by San Diego in the NFL Draft ). I have no hate for Peyton though, I actually think he is pretty entertaining.
Peyton Manning and Ex-Vikings John Randle Hanging out somewhere frozen in North Dakota
Recently there was a ton of Peyton Manning sightings at the Mall Of America in Minnesota ( wearing a Tommy Kramer Vikings football jersey ). Could it possibly be a segment that will air on his show? According to bringmethenews.com "In Peyton's Place, Manning travels "across the country on an adventure through NFL lore with the greatest players — and storytellers," according to the ESPN+ website. The show aired its second season in the spring of last year" He also was seen at a local restaurant.
The true test of any Minnesota visitor is to experience the great outdoors
That is exactly what was captured on a Twitter/Instagram post by ex-Vikings John Randle. Did they go share a cup of coffee together, or toss down a couple of brews? Not at all, Randle and Manning ventured out on a frozen lake somewhere in Minnesota. Here is part of what Randle tweeted "Had a blast showing off my beautiful state of Minnesota to Peyton Manning…"  bringmethenews reported.
---
LOOK: What are the odds that these 50 totally random events will happen to you?
Stacker
took the guesswork out of 50 random events to determine just how likely they are to actually happen. They sourced their information from government statistics, scientific articles, and other primary documents. Keep reading to find out why expectant parents shouldn't count on due dates -- and why you should be more worried about dying on your birthday than living to 100 years old.