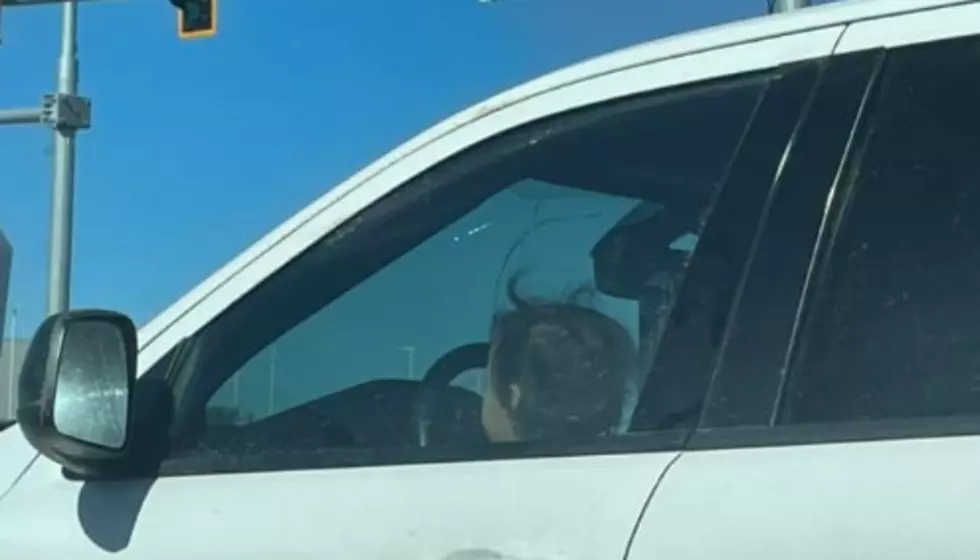 In Bismarck – Something Wrong With This Picture? Yikes
Courtney Kilber Facebook
If you were out and about driving around Bismarck/Mandan back in September, you may have come across this
Your first glance over, "Ahh how cute..." - really? After taking a quick half of a second, letting what you saw absorb in, "Wait, that's not very smart at all...."  - I'm almost 99.9% sure there is a law in North Dakota that says your small baby must be in a specific passenger seat. Now I know it's not my job nor is it Courtney's either, to enforce the law on anyone, but she does have the right to be genuinely concerned.
"Driving down state street yesterday and had to call the cops cause someone was letting their baby drive their car. educational purposes"
That's what Courtney had to say on her Facebook page, as you can imagine, most of the comments that replied to her post were that of shock and surprise - some even suggested the obvious, that police were bound to pull over this driver and hand them a ticket. So what if any is the actual law pertaining to babies sitting on your lap while you are operating a motor vehicle?
Good old common sense should be enough to tell you that it's not a good idea
According to dot.nd.gov/divisions • Children younger than 8 years of age are required to ride in a child restraint (car seat or booster seat). The restraint must be used correctly – following the manufacturer's instructions 
Yes, there is a fine if you get pulled over. A co-worker told me he has seen other not-too-smart adventures involving a bouncy baby boy or girl - like a toddler sitting on a man's lap while he is operating one of those huge lawnmowers. Not too bright.
---
LOOK: Baby names that are illegal around the world
Stacker
scoured hundreds of baby name databases and news releases to curate a list of baby names that are illegal somewhere in the world, along with explanations for why they're banned.