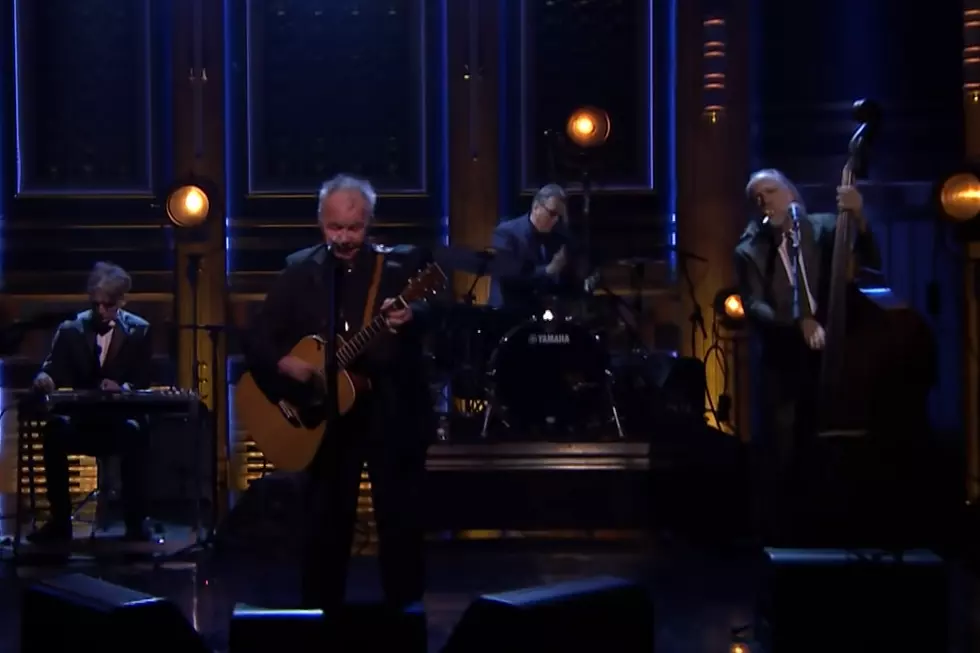 John Prine Joined By Jimmy Fallon and the Roots for 'When I Get to Heaven' [WATCH]
YouTube
John Prine appeared on The Tonight Show Starring Jimmy Fallon on Monday (Oct. 29), to share "When I Get to Heaven," a song off of his newest album, The Tree of Forgiveness ... with some help from Fallon and his house band, the Roots. Readers can press play to watch the performance.
Broken up with spoken-word poetry, the upbeat "When I Get to Heaven" describes the hereafter, according to Prine's imagination. "When I get to heaven / I'm gonna shake God's hand / I'm gonna thank him for more blessings / Than one man can stand," he sings. "Then I'm gonna get a guitar / And start a rock 'n' roll band / Check into a swell hotel / Ain't the afterlife grand?" 
Prine delivers the first verse of "When I Get to Heaven" before launching into a rollicking chorus, joined by the Roots and Fallon on kazoos. "I'm gonna have a cocktail / Vodka and ginger ale / Yeah, I'm gonna smoke a cigarette / That's nine miles long / I'm gonna kiss a pretty girl / On the tilt-a-whirl/ 'Cause this old man is going to town," Prine sings, closing out the chorus with a jazzy, be-bop line.
"When I Get to Heaven" is the final track on The Tree of Forgiveness. Prine's 2018 release is the highest-charting album on Billboard in his illustrious career and has earned him both critical and fan praise. He's also among the 2019 Rock and Roll Hall of Fame nominees; the official list of inductees will be revealed in December.