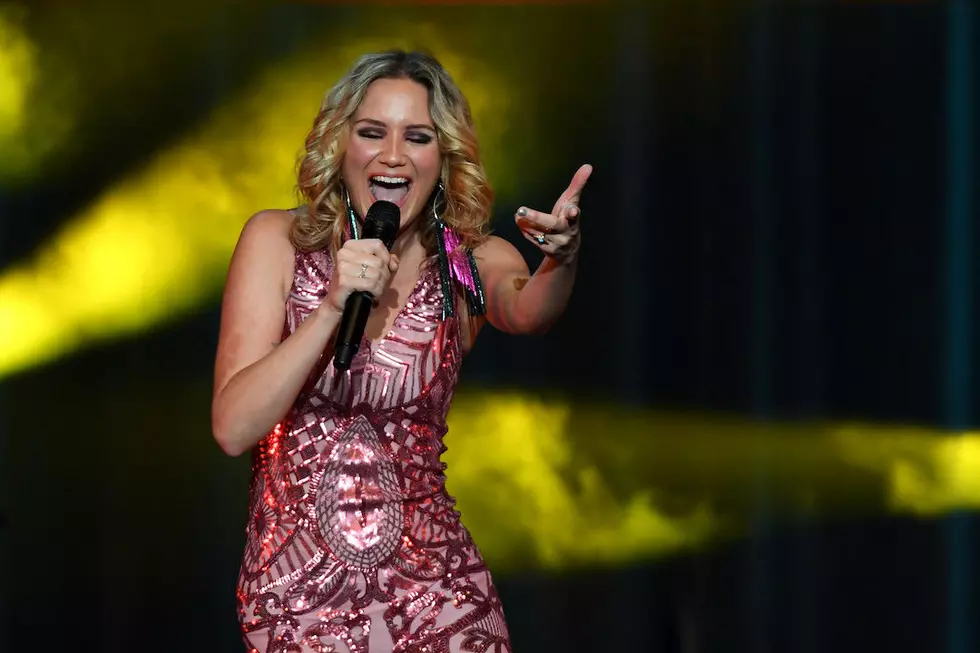 Jennifer Nettles' 'I Can Do Hard Things' + 7 More New Country Music Videos
Ethan Miller, Getty Images
From messages of inspiration to a "Stepford wife"-esque alternate universe, plus an adorable story all about a dog, country music videos ran the gamut this week. Read on to watch all the latest from your favorite artists!
Jennifer Nettles, "I Can Do Hard Things":
Jennifer Nettles captures the bittersweet struggle of women in various stages of life - a firefighter, a business supervisor, a military wife, the caretaker of an elderly parent and more, in the poignant black and white video for her song "I Can Do Hard Things." The women featured in Nettles video tell stories of the hardships they face, in stories interspersed between Nettles signature voice. "This song for me is a truth telling, a blood letting, a real-life heart opening to what it means to be a grown woman. It is my offering to honor the reality that, as I like to say, 'everything is everything,'" Nettles shares in an essay on Medium. -- LS
George Strait, "Codigo":
George Strait gives the world a glimpse of his wife of nearly 50 years, Norma, in the new music video for his song "Codigo." The clip shows the couple taking a trip to Mexico, where his trademark Codigo brand of tequila is made. Between shots of agave fields and happy glimpses of a carefree Mexican lifestyle, including Norma enjoying drinks with friends and a dance with her husband, Strait delivers the boot-stomping honky-tonk tune. -- LS
Montgomery Gentry, "King of the World":
Filmed in a cabin outside of Nashville, Tenn., the music video for Montgomery Gentry's "King of the World" tells the story of a man who can do no wrong through the eyes of his loyal dog. The lyrics paint a picture of a reclusive and perhaps eccentric backwoods lifestyle, which is played out in the video between the lone cabin-dweller and his German Shepherd. "When I heard it, I immediately thought of my neighbor," Eddie Montgomery says in a press release. "I call him 'my crazy-a** Cajun buddy,' and this song is him." -- LS
Granger Smith and Earl Dibbles Jr., "Holler":
Granger Smith features his alter ego, Earl Dibbles Jr. in the music video for "Holler." In addition to internet celebrity Dibbles, the redneck frolic at the Yee Yee Farm is filled with guns, four-wheel-drive and appearances by several of Smith's other celebrity buddies, including bull rider Dale Brisby,  "Dr. Demoiliton" Matt Carriker, former sniper Nick Irving, veteran Internet sensation Mat Best, and others, as well as several Dallas Cowboys Cheerleaders. -- LS
Kassi Ashton, "Pretty Shiny Things":
Rising country singer Kassi Ashton released a music video for "Pretty Shiny Things," and its lyrical and visual message pulls the curtains back on lies we often believe. "In our society, it feels like we're forced to evaluate our reflection everywhere we turn, always waiting for a confirmation from someone else that we are enough," the singer tells PAPER Magazine.
The video portrays Ashton looking gorgeous and perfectly put together, but at the same time, there's a darker, more desolate and lonely ambiance--and that was her intent. "I wanted everything to be mirrored so that she couldn't escape her reflection, both physically and mentally. I wanted it to feel very delicate and girly, but with a haunting, "Stepford wife" undertone. All I could see in my mind when creating the treatment was prismatic lens flares and very creamy texture." Kristin Barlowe directed the music video, which was filmed in Nashville. -- CV
Farewell Angelina, "Ghosts":
Nicole Witt, Andrea Young, Ashley Gearing and Lisa Torres of Farewell Angelina headed to a little dive bar in Nashville and the infamous Printers Alley to film their music video for "Ghosts." The band says of the video, "It feels amazing to release 'Ghosts' for the world to see. We wanted to honor all of our musical heroes who came before us and the rich tradition of Nashville songwriting." The women look glamorous as they sing the song that was inspired by one of Young's Instagram photos; she played the Grand Ole Opry and then captioned a photo, "Even The Ghosts Are Singing Tonight."
Chase Rice, "This Cowboy's Hat":
Chase Rice's experience recording the song and video for "This Cowboy's Hat" was, in his words, "insane." He re-recorded singer and rodeo champ Chris LeDoux's classic hit with his son, Ned. Rice says, "That was my childhood… Garth Brooks and Chris LeDoux. And for me to be able to record that song with his son and with one of the guys from Western Underground playing on the song… that's insane."
The clip was directed by Cody Cannon, and features clips of Rice and Ned LeDoux in the recording studio and playing together from Colorado's Greeley Stampede (their only time playing it live together). "If I was going to do it, I wasn't going to screw it up. We had to do it right and I think we nailed it," says Rice. Also in the video is footage of the late LeDoux's live version of "This Cowboy's Hat" as Rice and Ned LeDoux wanted to "give a little tip of the hat" to how it was originally done. -- CV
Kree Harrison, "I Love the Lie":
Kree Harrison's new song, "I Love the Lie," has a creative music video concept to go along with it. As she sings "I miss hearing you say 'I love you' / Even when you didn't mean it / I love the lie, I love the lie," an actor and actress rehearse the part of a romantically-involved couple onstage in a theater. Outside of the theater is a sign stating "I Love the Lie Opening Next Week." Shots of Harrison singing are Interspersed throughout, and the clever pairing of "I Love the Lie" with a "pretend" couple begins to make perfect sense. But watch the whole video...because the end scene drives the point home! "I Love the Lie" was directed by Alex Berger and Slater Goodson, and the song was co-written by Chris Stapleton and his wife Morgane.