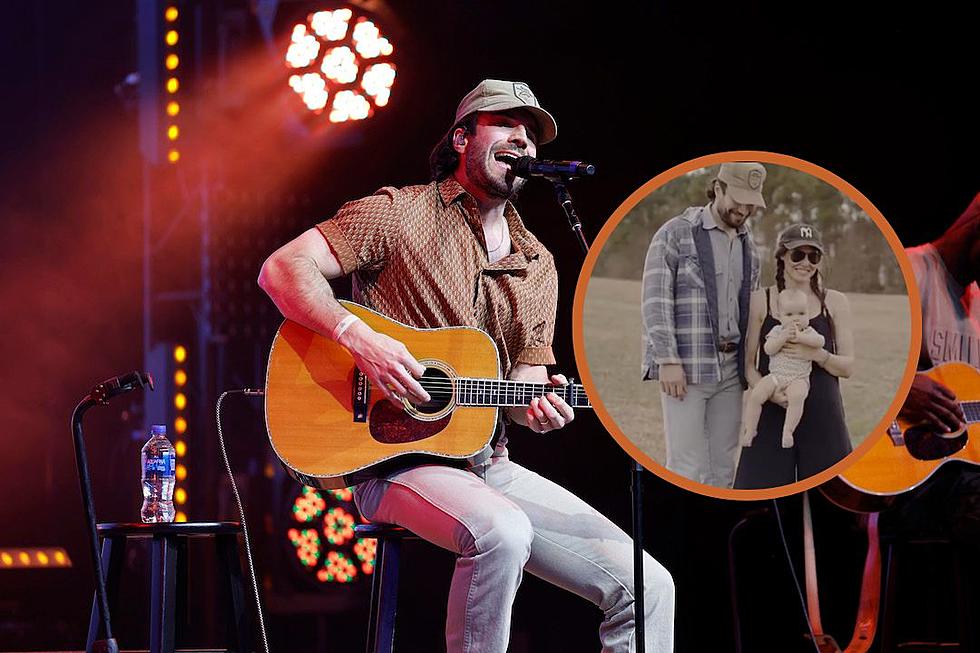 Sam Hunt Shares a Family Video, Giving Rare Look at Baby Lucy [Watch]
Jason Kempin, Getty Images/Instagram
Sam Hunt fans have gotten a few glimpses into his family life with wife Hannah Lee Fowler and infant daughter Lucy, but the star typically likes to keep his personal life pretty private.
However, in a new video he posted to social media on Tuesday (March 7), Hunt shares a sweet family portrait of his young family.
The video was shot in a field on a sunny day, with Hunt rocking longer hair, a ball cap and a tucked-in, button-down shirt. In the beginning of the clip, the singer stands alone, as a gentle acoustic guitar plucks in the background and a male voice reads the poem "Bluebird," by Charles Bukowski.
"There's a bluebird in my heart that wants to get out, but I am too tough for him," the poem reads. "I say, 'Stay in there. I'm not going to let anybody see you.' / There's a bluebird in my heart that wants to get out, but I pour whiskey on him and inhale cigarette smoke / And the whores and the bartenders and the grocery store clerks never know that he's in there."
As the poem continues, the camera pans out to show that Hunt isn't alone in the field: On the contrary, he's surrounded by family. One shot shows the singer holding baby Lucy, who was born in May 2022. In that clip, Hunt is talking to another man who is holding another baby who looks a little younger than Lucy.
A family shot reveals the full picture of two young families: One of them is Hunt, Lucy and the singer's wife, Hannah Lee Fowler.
The video goes on to show various shots of the parents and their children wandering the field. In one clip, Fowler is holding baby Lucy, who waves at the camera. Hunt didn't explain why he chose this poem or this musical background for his video, simply captioning the post, "Generations."
It's not clear what, if any, role the video plays in Hunt's new music rollout. However, the singer has been releasing music over the past few few months. On Monday (March 6) he announced his 2023 Summer on the Outskirts Tour, as well as the release of a song called "Outskirts" that will arrive on Friday (March 10).
Before that, he dropped a song called "Walmart" in February," and two new tracks — "Start Nowhere" and his current single, "Water Under the Bridge" — arrived in late 2022. All of those songs are new material since Hunt's latest album, 2020's Southside.
See the Most Played Country Song from the Year You Were Born
Who had the most played country song during the year you were born? This list is a fascinating time capsule of prevalent trends from every decade in American history. Scroll through to find your birth year and then click to listen. Some of these songs have been lost through the years, many of them for good reason!
2023 Country Music Festivals Guide
Enjoy an updated list of country music's best festivals, across America, Canada, Great Britain and more. This list of 2023 country fests will be updated to reflect postponements, cancelations or lineup adjustments.