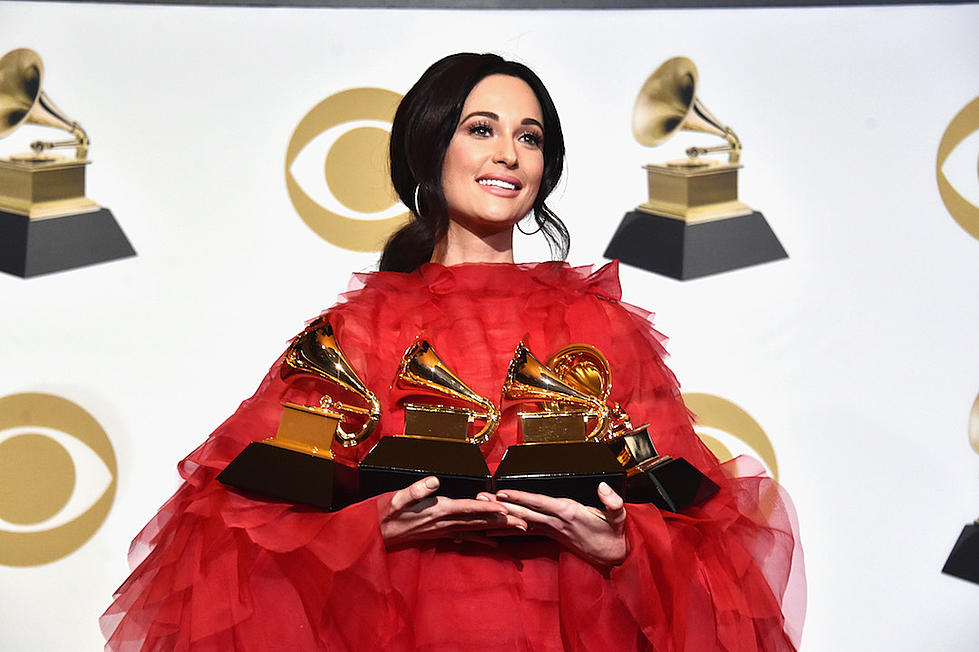 Op-Ed: Country's Women Win Big, Prove Their All-Genre Appeal at the 2019 Grammy Awards
Alberto E. Rodriguez, Getty Images
The Recording Academy's decision to spotlight women and artists of color during the 2019 Grammy Awards was, at its outset, a necessary PR move. However, its results brought stunning performances, and victories to some of the acts who have been overlooked for too long.
At the 2018 Grammy Awards ceremony, only one woman won an award during the televised portion of the proceedings. Recording Academy President Neil Portnow responded by essentially telling women to up their game, saying, "I think it has to begin with women who have the creativity in their hearts and their souls who want to be musicians, who want to be engineers, who want to be producers, who want part of the industry on an executive level, to step up."
The massive fallout that ensued ensured that the Grammys wouldn't be able to simply ignore the issue at 2019's ceremony; some move towards inclusivity was going to take place. What saved the award show's mea culpa towards female artists from being a cringe-worthy, empty gesture, though, was how they did it.
Viewers might have suspected that women, and particularly women of color, were to take center stage at the show as soon as the Academy announced its host, Alicia Keys. Once the ceremony started, however, the message was undeniable: Keys opened the show by welcoming Jennifer Lopez, Jada Pinkett Smith, Michelle Obama and Lady Gaga to the stage, each of whom offered up a sentiment about the importance of honoring a diverse batch of nominees.
"Who run the world?" asked Keys. She didn't need to finish the lyric -- the crowd got the message loud and clear. The show's more cynical viewers might have rolled their eyes, dismissing the moment as the Recording Academy's attempt at running damage control by trotting out a collection of feminist icons and hashing in Beyonce lyrics. But you can't argue with talent, and that's exactly what came next from the female performers and nominees of the evening.
The most effective gesture the Grammys made at inclusion was to merely give female artists a platform and let them prove Recording Academy President Neil Portnow's 2018 comments wrong -- and boy, did they ever.
The show's several featured tribute performances -- all honoring or heavily involving female performers -- brought some of the most memorable moments of the show. Lopez (controversially) starred in a tribute to the magic of Motown, featuring stalwart of the genre Smokey Robinson. Diana Ross gave a triumphant performance in honor of her 75th birthday. Andra Day, Fantasia and Yolanda Adams honored the late, great Aretha Franklin.
Some of the other highlights of the all-genre show were country performances, including a tribute to Dolly Parton that featured duets by the iconic performer and a few of today's brightest stars in the genre. Maren Morris, Kacey Musgraves and Little Big Town all contributed to the montage of hits, as did pop artists Miley Cyrus and Katy Perry.
In solo performances, country women shined as well. With due congratulations to Dan + Shay, who nailed their performance of "Tequila" after netting a well-deserved trophy for the song, Brandi Carlile delivered what was arguably the most gripping solo performance of the evening with "The Joke." It sounds simple, but the most effective gesture the Grammys made at inclusion was to merely give female artists a platform and let them prove Portnow's comments wrong -- and boy, did they ever.
2019 Grammy Awards: 5 Epic Country + Americana Moments
Alongside their triumphant performances, female artists dominated among the evening's nominees and winners lists, with milestone victories happening at such a rapid-fire pace that it was hard to keep up. Cardi B became the first solo woman ever to win the category of Best Rap Album. H.E.R. netted the trophy for Best R&B Album for a project that, she emotionally admitted from the podium, wasn't actually an album at all, but an EP. Dua Lipa won in the category of Best New Artist and used her speech time to make a subtle jab at the Recording Academy, saying, "I guess we really stepped up this year."
"I think that women have a really necessary perspective to art, to music," Musgraves explained backstage after the show, adding that true inclusivity in music requires work on the part of both female artists and those in the industry. "It takes two to tango, in that I think it take women having the b--ls to put out art that might not always be liked by everyone. But it also takes people on the other side of that to reach out and give those things a chance to be heard."
The Grammys is an all-genre show, and Kacey Musgraves' winning album, 'Golden Hour', represents a country album that has the capacity to appeal to fans of all genres.
Atoning for the Academy's sexist past is one thing, but it doesn't account for Musgraves' four-win night. Her sweep was the result of something much deeper and more meaningful than a need for damage control. The Grammys is an all-genre show, and Musgraves' winning album, Golden Hour, represents a country album that has the capacity to appeal to fans of all genres.
When Golden Hour won Album of the Year at the 2018 CMA Awards, the country star explained that the album's reach beyond country was deliberate: "I think this album has reached well beyond country music," she said, "but also I wanted to give people who do love country music something, too. I didn't wanna leave that behind. I wanted to take it with me." Notably, the female country artists nominated in all-genre categories at the Grammys -- Margo Price, Musgraves, Morris, Carlile -- are some of those whose output over the past year has extended beyond the country format, played with genre boundaries and captured the hearts of fans who might not otherwise ever have listened to country music.
Necessity is the mother of invention, and part of the reason why country's women are finding new directions is because it's so difficult for them to find mainstream success and airplay at country radio. Yet while much energy -- and rightfully so -- has been focused on changing those metrics, the 2019 Grammy Awards demonstrated an upside to those hurdles. At the 2019 Grammys, female country artists proved that they could star in an all-genre show, and -- if Musgraves is any indication -- create some of the best music in the world, bar none.
Country Music Shines on Music's Biggest Night [PICTURES]