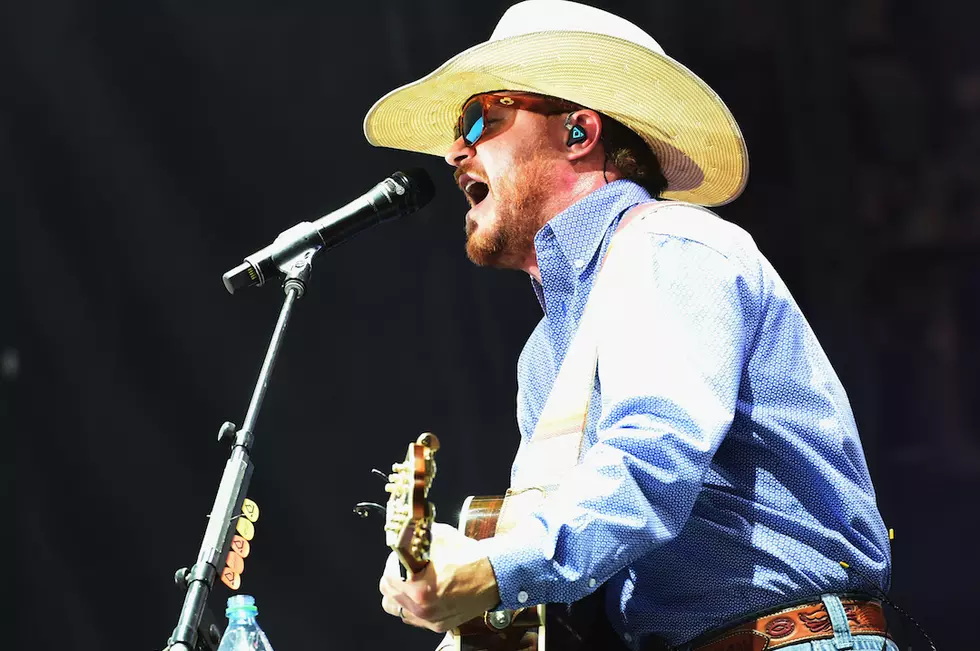 Cody Johnson's 'Ain't Nothin' to It': 5 Must-Hear Moments
Rick Diamond, Getty Images
Anyone concerned about Cody Johnson "selling out" now that he's got a partnership with Warner Music Nashville can put their fears aside. His new album, Ain't Nothin' to It, keeps his traditional, Texas-bred roots firmly in the ground -- and if his major-label deal means more country fans get to hear it, that's what we'd consider a win-win.
Johnson's seventh studio album, Ain't Nothin' to It contains 15 songs, and a little bit of everything. There's major Southern rock influence on "Doubt Me Now," sultry blues undertones in "Nothin' on You" and plenty of straight-up country all over the record.
"It doesn't matter what label people put on you: 'He is this, he's that, he is this type of country.' We're just going to do this because it's fun, it feels good, it makes people move," Johnson admits to The Boot. "I think that mentality, that is what most embodies the entire album."
And if Johnson himself isn't worry about whether people think he's "country enough," who are we to do it? Just dig in and enjoy Ain't Nothin' to It; we recommend starting with these moments.
"Fenceposts": A Part of Johnson's Love Story

Robert Arthur and Benji Davis co-wrote the bluegrass-tinged "Fenceposts," but it's ripped from the pages of Johnson's own life: "It happens to be, ironically enough, the story of me and my wife and our little 25-acre farm back in Texas," the artist tells Taste of Country. "It was solid woods, and it was a good price, and we showed up and walked through the woods and said, 'Man, I can see a house right here. Baby, this is where we could do it.'"

Johnson admits that the song made both him and his wife well up when they first heard its lyrics: "But don't tell your mama yet, I'm beggin' you / Don't tell your daddy 'til the paperwork goes through / When the time is right, we'll let 'em know / But right now is between you, and me, and these here fenceposts." Plenty of couples will relate to that feeling, when you're at the start of a big adventure together but, for the time being, it's just you two against the world.

"Long Haired Country Boy" and "Husbands and Wives" Are Basically Perfect Covers

Ain't Nothin' to It contains two classic country covers, but they're both successful for different reasons.

"Long Haired Country Boy," originally a Charlie Daniels Band song from their 1974 album Fire on the Mountain, becomes a hard-edged manifesto in Johnson's hands. "If you don't like the way I'm livin' / Just leave this long-haired country boy alone," the artist growls over heavy guitars. The fiddle is still prominent throughout the song -- a nod to the original -- but Johnson takes this classic and makes it his own.

Brooks & Dunn's "Husbands and Wives," on the other hand, stays truer to the original in Johnson's hands. He and his band recorded the cover live, and although it's a sad song, you can feel a warmth and energy as Johnson offers his best Ronnie Dunn impression: "The angry words spoken in haste / Such a waste of two lives / It's my belief pride is the chief cause in the decline / Of the number of husbands and wives."

"Honky Tonk Mood" Is Retro Goodness

If we didn't know any better, we'd think Johnson's song "Honky Tonk Mood" came off a Dwight Yoakam from the '80s. A classic country drinking song accented by swinging guitar and peppy fiddle, you can boogie to this track whether you can boot-scoot boogie or not. We fell in love with this song before we realized that Chris Stapleton co-wrote it (with Al Anderson) -- but that fact just makes us love it even more.

"Monday Morning Merle" Proves Nothing Helps Heartache Like "the Hag"

You can try Cash, Springsteen, the Beatles, the Eagles and Jackson Browne, but nothing does a broken heart good quite like a sad, old Merle Haggard song. In the case of this song's protagonist, he's finding "a song full of truth / With some words he never said / With those whiskey remedies / And those old-school melodies you can't forget." When all is said and done, "Monday Morning Merle" is really a reminder that a good song will help you through just about anything.

"Dear Rodeo": Love Songs Come in Many Forms

Johnson comes by his cowboy ways honestly: He's a former rodeo rider who was pursuing music on the side ... until music became a full time career and he put his rodeo days behind him. To Taste of Country, Johnson admits that the split "felt like ... a divorce." It was his someone from his A&R and publishing team that got Johnson to revisit that old relationship.

"He said, 'I feel like there's a side of you you've never dealt with. You've never actually addressed the open wound that is you don't have that dream anymore,'" Johnson remembers. "Dan said, let's write to her — but we wanted it to be in a way that if you've never rodeoed, you can still relate that to something in your life."